Aliens Video Slot Review
Aliens is known as the thrilling Sci-fi film, and has now taken its place in Casino, thanks to Netent bringing it alive in an online slot version. Prepare to be thrilled; it's edgy and it's dark, just like the feeling you get when you watch the films. Play now at any Netent casino for some great in game features which depict scenes from the film itself!
Netent's Aliens Slot is based on the 1986 film of the same name. NetEnt, in association with 20th Century Fox, brings you this amazing looking and one of its kind slot to the market.
Aliens Slot has all-new 3D graphics, 3 game levels, collectible multipliers, wild substitutions and re-spins. Put bluntly, it's a chilling & thrilling adventure and quest within a casino slot to add as much fun and suspense possible whilst winning coins!
How to Play Aliens Slot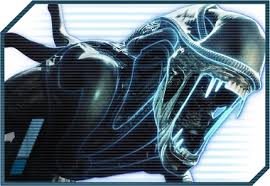 Netent's Aliens slot is designed with a 5-reels, 3-rows and 15-lines. The graphics are really top-notch and dark, as you'd expect if you can remember what the films are like. Icons on the reels are made up of the Aliens and other strange creatures from the film, and the colour scheme is really futuristic blues and blacks.
The reels are set against a backdrop what a outer planet crash sites looks like, on the mission; A deserted planet with a snowstorm raging on.
The idea of the slot is to scan infested premises for Alien activity, and shoot through the waves of Alien attacks to reach the goal of the mission: The Queen Hive.
To get started, simply load the slot, at this point you can opt to either watch introduction film which sets the scene, or skip it.
Aliens Video Slot is played with bet levels of 1 up to 10 and with a total of 15 bet lines. Aliens Slot can be played with 7 different coin values ranging from £0.01 up until £1.00. The winning bet lines can be won by identical symbols on any bet line, running from left to right.
The bet level is the number of coins you bet on each of the bet lines. The coin value is the amount of money which one coin is worth. The bet level therefore, will be multiplied by the bet lines and the chosen coin value to determine what the total bet amount per spin will be.
The coin values you can choose in Aliens video slot are: £0.01, £0.02, £0.05, £0.10, £0.20, £0.50 and £1.00. Aliens slot has a £150 maximum bet and £0.15 minimum betting range. To work out your desired bets, here's a guide: Minimum bet level 1 x 15 bet lines x minimum coin value £0.01 = £0.15, whereas the maximum bet level 10 x bet lines x maximum coin value £1.00 = £150 and so on.
Aliens Slot is considered an 'all round slot' for all types of players wanting to either be modest players or high rolling. At this stage, set the slot to your preferred betting levels, well within your comfort zone and get start by hitting spin!
Bonus Rounds and Extras
Aliens Slot is designed with lots of extra in game features which are entertaining as it's more like a quest than a traditional casino slot. There are a total of 3 different goals to complete during game play. The further you get along the levels, the better rewards you will win for yourself.
Symbol Substituting Wilds:
Aliens' Wild symbols will create the highest possible winning combination on a bet line. They can appear during the main game (called 'The Search') on reels 2, 3, 4 and 5. During the second level (The Encounter) they'll appear randomly in any position on the reels, except for the overlay (see below for more details about these features), on the centre positions of reels 1, 2 and 3.
Level 1: The Search:
This is during the main game, that level 1 called The Search where the goal is to collect as many multipliers symbols (from a x2 up until x14) that will be shown on the 'Alien Activity Meter' which is located above the reels. As soon as you get 9 multiplier symbols collected, then congratulations! this is where Level 2 'The Encounter', will be activated, and the highest multiplier symbols will be transferred across to the second level. On the flip side, when you spin and you don't generate a winning combination, the Alien Activity Meter will drop with one multiplier symbol.
Level 2: The Encounter:
In this part of the game, the'2nd level' the objective is to kill as many aliens as possible to reach the next level, which is level 3, The Hive. Here, with every spin you make, a symbol overlay will appear on the centre positions on reels 1, 2 and 3, each of which will have its own multiplier, bestowing from the symbols on the Alien activity Meter.
Interestingly, after each spin you make, Ammo Clips will be randomly granted to kill the attacking aliens! You can see how many Ammo clips available to you by the Ammo Clip Counter on the lower right hand side of the screen. As long as there are Ammo Clips, a re-spin is granted. If you run out however, then bad news: Alien will get you the 'Player' and the mission will be aborted and you'll return to level one again. To make it as far as Level 3 (and thus as you go along, the chances of winning more cash significantly increase towards the slots jackpot) 10 steps need to be completed to pass to the next level: The Hive.
Level 3: The Hive:
When you have gotten all the steps in Level 2 then you'll reach The Hive which is Level 3. It's this level that gets, shall we say, a little hairy, as the goal is to kill the Queen Alien and her Hive with eggs. Don't worry though, as you will have some serious ammo to get started with.
A total of 5 re-spins and 4 Ammo Clips will be awarded, as well as a grenade to cause as much damage to the Queen and eggs as possible. At the same time, the aliens will attack you, defending themselves and you can see the amount of damage caused as it will be shown on the Hive Health Meter, which has of 4 steps, each awarding a coin win. If the Queen and her hive are destroyed, then a bonus coin win of 240 x the bet is awarded so it's pay out time when you reach this level!
Aliens Slot Rtp % & Variance
Aliens Mobile Slot has an Rtp % of 96.4% and is considered a medium - high variance slot
Aliens Mobile Slot
Aliens Mobile Slot is fully functional on all mobile and tablet devices in the form of Netent Aliens Touch™. The Touch™ series is Netent's prestigious mobile slot series, the mobile version loses no suspense or any quality or shall we say edgy thrills the main desktop version offers. Aliens slot is totally recommended for mobiles and tablets as it's totally fun to play the quest to reach level 3.
Review Summary
Netent has done a fabulous job in recreating an online slot which is up there in terms of suspense and edginess, just like the films! We're Aliens (the film) fans ourselves, so we got really excited when we heard about this collaboration.
And Netent did a good job. Aliens slot is fun to play because it's a challenge and quest so that adds fun and diversity and there's lots of extra win chances up for grabs along the way, until you make it to the Hive and battle the queen to get a x240 coin win!
Aliens slot is well recommended, which is why we awarded it with a 5 star rating. Aliens slot is available to play at all recommended NetEnt casinos below. Aliens is a great choice is you're looking for dramatic and dark slots which give you an extra suspense and thrill during game play.
Where You Can Play Aliens Slot