Elements: The Awakening™ Slot Review
A visually stunning piece of work, NetEnt's Elements: The Awakening Slot not only looks fantastic, it also offerS some very entertaining and interactive in- game features which ultimately help to boost your bank roll!
Taking the 4 super powers that we've known from primitive times; Earth, Water, Air and Fire, play Netent's Elements video slot for a trip to another planet where you'll have to battle such elements to land correctly against each other to activate winning pay lines. Elements Slot was one on the first NetEnt Slots to boast such high grade 3D graphics and we have to say- This slot is a must try for all Netent fans!
How to Play Elements: The Awakening™ Slot
Elements: The Awakening™ Slot is a magical, fantasy themed video slot based on the 4 elements; Water, Air, Earth and Fire. It's designed with 5 reels, with 3 rows and 20 fixed bet lines and adjustable betting levels.
Elements Slot features really high grade 3D animations, with icons floating on top of the reels, each depicting the different said element, all of which are set against a planets backdrop that you've never seen before... it could be Mars or another planet in our solar system, a moon or some place far, in anther galaxy. But one thing is for sure – it's not Planet Earth. Let Netent take you on a trip to another place and time.
Elements: The Awakening™ Slot has a lot going on, and features the Avalanche™ feature (Instead of spinning the reels, they 'fall into place and disappear as if they are an avalanche) plus various extra in game features, which we will explain below.
To get started, set the betting levels that you prefer to play with. Elements Slot can be automatically played with 20 fixed bet lines but you can pick from a total of 10 different betting levels and 6 different coin values you wish to play with, before you begin. The bet level is basically the number of coins you can play with on each bet (pay) line. The coin value is the amount of money which one coin is worth.
To work out the minimum and maximum bets per line, you can use these as examples: To work out the Minimum bet you can see that: Bet level 1 = 20 coins x minimum coin value £0.01 = £0.20, whereas the Maximum bet would be: Bet level 10 = 200 coins x coin value £0.50 = £100

Bonus Rounds & Extra Features
It's fair to say that Elements: The Awakening Slot offers a fair deal of extra features to make this slot a complete treat for the eyes. Really. It's one of our favourites.
The Avalanche™ feature, Avalanche Meter and the Energy Meter: If you get a winning line when you're playing the main base game, the symbols which make that line up will explode and disappear to make way for another avalanche or 'wave' of falling symbols into place.
After 4 consecutive avalanches that generate winning bet lines, which are tracked by the avalanche meter, one of the 4 free fall storm modes, one for every element, is activated. Also, on the energy meter you can see which storm mode (of which element) will be triggered if free falls are won (see below).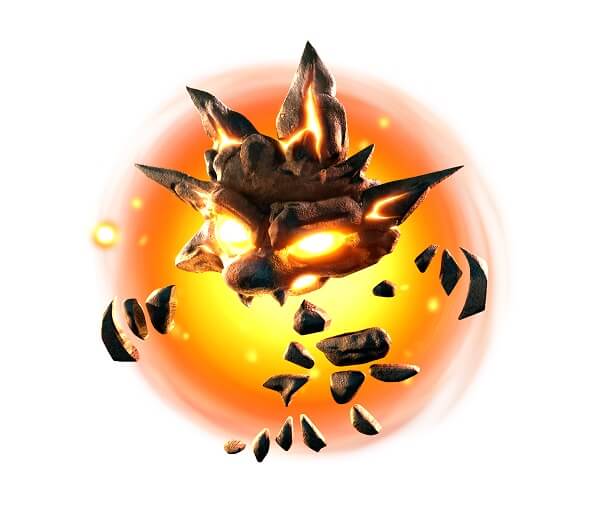 Wild Symbols:
The Wilds will replace all other symbols to create a winning combination on an active pay line. They can only appear on reels 2,3,4 and 5, but will pay the highest possible win.
Free Falls Storm Mode:
As we mentioned, Elements has 4 different free falls storm modes; one for each element. When a free falls storm mode is triggered, you'll get 10 free falls, which are really free spins, so we're on the same page. Every mode offers its own free falls mode each lined with that specific element.
Free Fall Storm Wilds:
When any free falls mode is activated, which will be indicated by the 'energy meter', their own specific wilds will appear to substitute other symbols, to create winning bet lines to create the highest win possible.
Fire Storm Wilds:
The Fire storm wilds can only appear on reels 2, 3 and 4 and will change 2 adjacent symbols (in any direction) on the reels, into another wilds, meaning that in this feature, Wilds can appear on reels 1 and 5 too!
Air Storm Wilds:
If you activate the Air Storm mode, then 2 Air Storm Wilds will appear randomly anywhere on the reels, and will stay in positions during all of the free falls rounds, but note that after the first fall, they will randomly move to an adjacent position, for the next fall or 'Avalanche'.
Earth Storm Wilds:
The Earth Storm Wilds will only appear on reels 2, 3 and 4 and will substitute other symbols when they appear. Earth Storm wilds are pretty much like 'Sticky Wilds' which means that they will 'stick' in their positions until they help create a winning pay line, from 3 avalanches or until there are no more wins to be gained.
Water Storm Wilds:
The Water Storm Wilds are what's called 'Expanding Wilds' and they're designed to cover the reels vertically, changing the other symbols on the column into Wild symbols when they do. The Storm Wilds can only appear on reels 2, 3 and 4 only.
Elements: The Awakening Slot Rtp % & Variance
Elements: The Awakening Slot has an Rtp % of 96% and is considered to be a medium variance slot
Elements: The Awakening™ Mobile Slot
Nope, we can't believe this awesome looking and fun slot to play isn't (yet) available to play on mobiles, tablets and touch screens. Boo hoo to Netent, but perhaps there's a reason for that, and we're thinking it could be the complex design.
Still, we don't know and all we know is this slot is a must try for all Netent fans, so you're going to have to wait until you get home or bring out the big guns in the form of a laptop or mac book to try it out in the normal web format. Well recommended!
Review Summary
It's a bit of a shame that there's no Elements: The Awakening™ Mobile Slot but because it looks so good and unique, it's totally worth checking out.
Elements: The Awakening™ Slot offers a lot of visual effects and in game features and the betting levels are designed for all types of casino players, from smaller and casual, to more high rolling. Elements Slot is considered a medium to high variance slot, meaning be prepared to put in some time and coins before you'll see a (decent) reward.
But...! that doesn't have to be seen as a negative thing, it can make game play all the more fun and thrilling sometimes. The jackpot is paid out for five fiery, bad-tempered demons so keep a look out for these. Elements Slot is definitely on our 'do play this at leats once' list as it looks great and is quite fun to play. Have a go yourself, at any recommended Netent casinos below as it definitely worth a look at.
Where You Can Play Elements: The Awakening Slot