Go Bananas Slot Review
This Cheeky and Comical Cartoon Video Slot by Netent is set in the jungle and will give you all the opportunities to 'Monkey Around' for extra coin wins! Netent's Go Bananas Slot has an excellent Jungle theme which is hard not to love.
It's cheeky and caricature like and offers some fun extra in game features from the many substituting wilds. Try Go Banana's for some Monkey business and also Go Bananas yourself with this slots' big win chances by winning £7,000 on a single spin!
How to Play Go Bananas Slot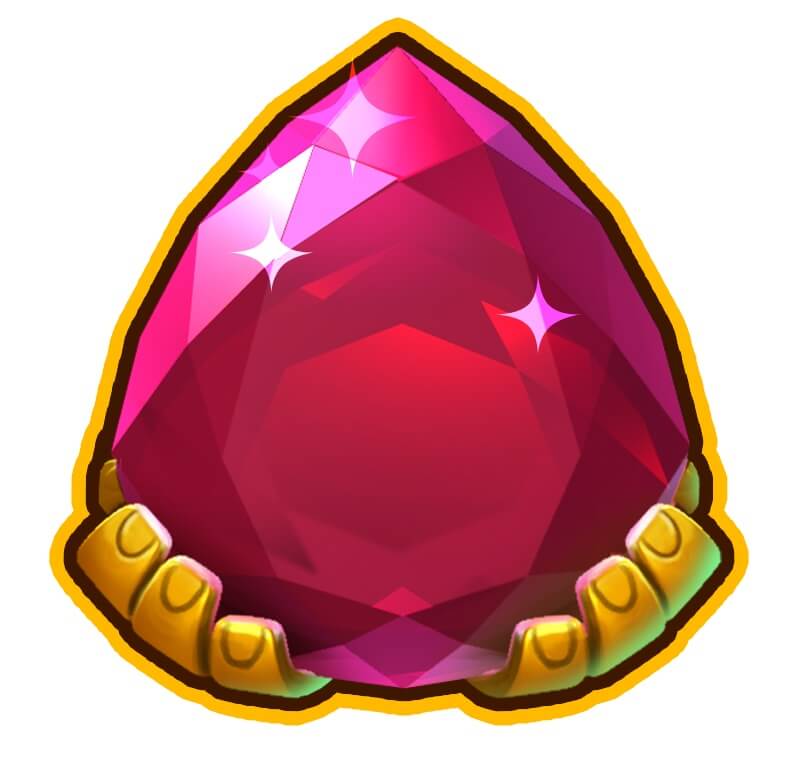 Go Bananas is a video slot designed and released by Netent. It has 5 reels with 3 rows and 20 fixed bet lines. The design is one of the best and fun themes we've seen, which depicts a jungle tree house with naughty, comical jungle animals coming to life to help you get some cheeky wins.
The aim of the game is to monkey around and get the monkey wilds to act up and help create you extra winning pay lines.To get started, set the slot to the betting levels you prefer and are most comfortable with. Go Bananas slot can be played with 7 different coin values, ranging from £0.01 to £1.00.
The bet level is basically the number of coins you can bet with on each line. The coin value is the amount of money one coin is worth. To work out minimum and maximum bets, the bet level can be multiplied by the bet lines and also your chosen coin value to determine the total bet amount per spin.
As an example of min and max bets see here: Minimum bet level 1 x 20 bet lines x the coin value £0.01 = £0.20
= and the maximum bet level 10 x 20 bet lines x the coin value £1.00 = £200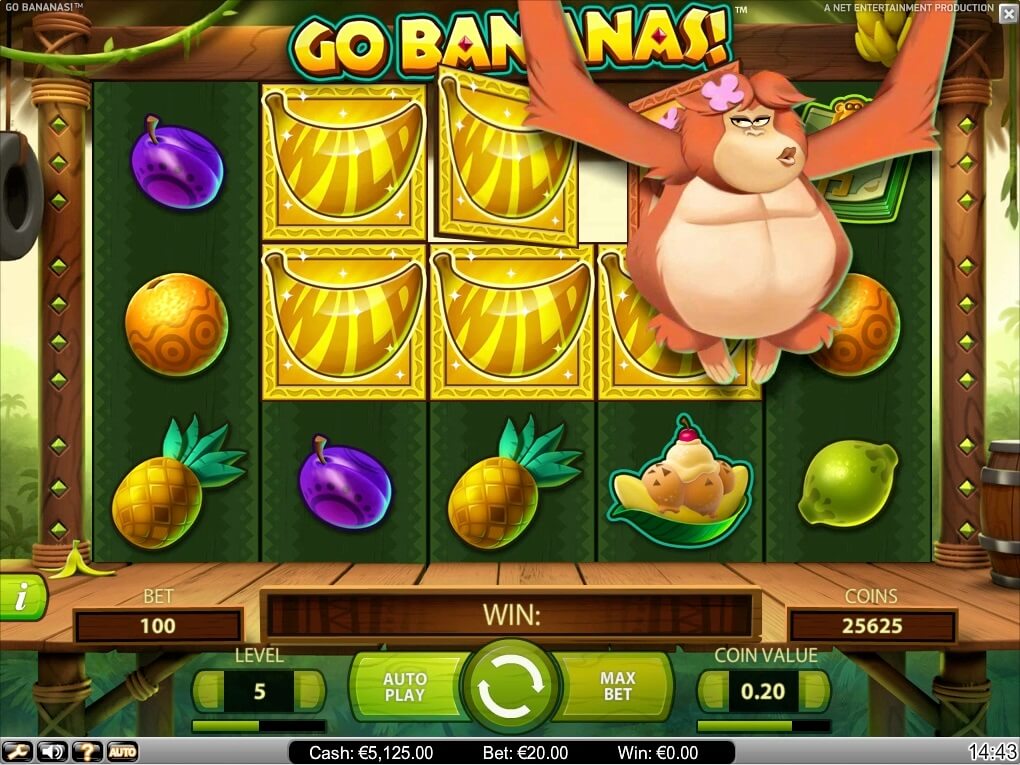 Bonus Rounds & Extra Features
Some may feel that Go Bananas Slot lacks some special features, such as a free spins games or some newer innovative NetEnt extras such as stacked wilds and extra bonus games which pop up.
For Go Bananas, we think one of the main charms is the theme itself. The special game features in Go Bananas slot are the 5 different symbol substituting Wild Monkey symbols, which each have their own (cheeky) characteristics and help you activate more winning pay lines.
Substituting Wilds:
When any of the 5 different Wild Monkey symbols appear on the reels, they turn themselves and adjacent symbols into wild symbols for extra coin wins. Every time you win, a massive ape will pop up onto the screen to congratulate you on your win!
The 5 different symbol substituting Wild Monkey symbols have their own specific wild behaviour and turn adjacent symbols on the reels into Wild symbols. See each one and its characteristics below:
Wild Tarsier:
The Wild Tarsier symbol will change 1 adjacent symbol onto a Wild symbol, either horizontally or vertically.
Wild Gorilla Symbol:
When a Wild Gorilla symbol appears on the reels, it will diagonally transform 4 adjacent symbols into Wild symbols, thus creating an X shape of Wild symbols on the reels.
Wild Baboon:
Get a Wild Baboon symbol and it will change 2 other symbols vertically, which will possibly cover a complete reel.
Wild Orang-utan:
When a Wild Orang-utan symbol appears, it will change 3 adjacent symbols into a Wild symbol, forming a cube of 4 Wild symbols on the reels.
Wild Langur:
When a Wild Langur symbol shows on the reels, it will change 2 other symbols horizontally on a row, creating a block of 3 Wild symbols.
Go Bananas Slot Rtp % & Variance
Go Bananas Slot Rtp is at 96.9% and is considered a medium - low variance slot!
Go Bananas Mobile Slot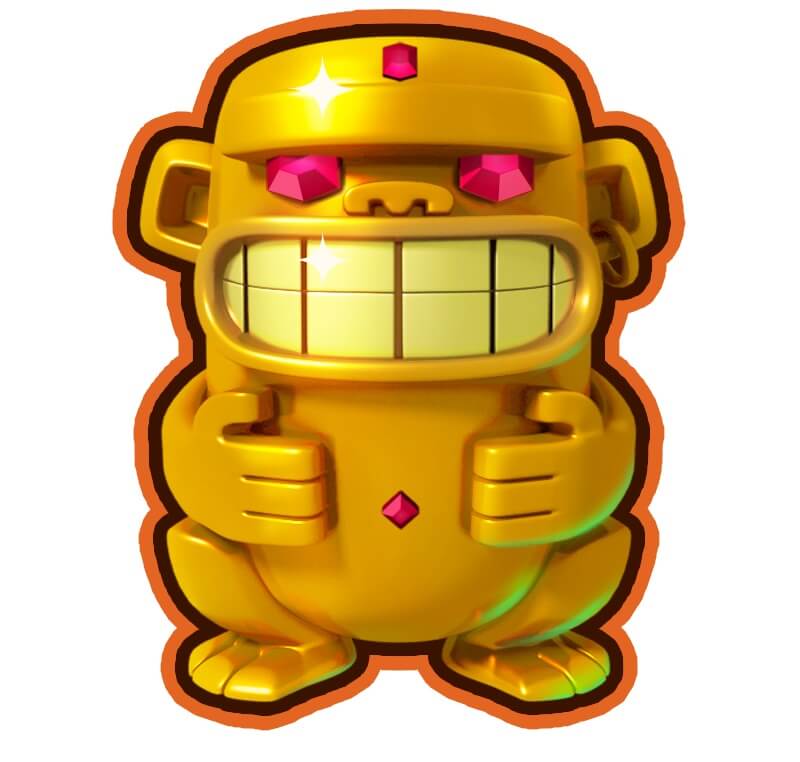 An awesome mobile slot available to play on the go and anywhere you like! Go Bananas looks great on mobile and is super fun to play!
Review Summary
Will the Substituting Wilds be enough action for you? One thing is for sure, this slot is simple. But depending on personal choice, you might like it, or you might not.
Lastly, Go Bananas Slot is a low variance slot, so do expect to see regular, if not small wins which should keep you interested and excited. #
These are mainly thanks to the substituting wilds which are the main focal point of the slot. But they do come in thick and fast. You can try go Bananas at a recommended Casino site which also has the best casino bonuses - this slot is definitely worth your time!
Where You Can Play Go Bananas Slot