Planet of the Apes Slot Machine Review
This game is so exciting, you probably would not even notice if apes suddenly took over the world. This is one of the best branded slots that NetEnt have pumped out in a good while. This is really saying something too as the company knows how to produce some epic slots.
Basic Information about this game
The Planet of the Apes slot was first launched in October 2017. You will find 5 reels, 3 rows, and 20 paylines. The minimum bet per spin is 20p. The maximum is £200. House edge is 96.33%. This is a low to medium volatility slot.

The Theme
The theme is Planet of the Apes (who would have guessed?). It is based around the more recent movies as opposed to the older ones. We think, at least. We have not seen the most recent movies so this does make sense.
One of the reasons why we love NetEnt branded slots is because the company always goes to great lengths to really capture the 'feel' of the game. Many of the features that you find in Planet of the Apes are actually heavily tied to the theme, which is great. Although, it does make it slightly awkward as you are unlikely to find these features elsewhere.
There is also a mobile version of the Planet of the Apes slot available. Of course, since this is a NetEnt mobile slot, you can expect it to be every bit as brilliant as the desktop version of the game. Actually, y'know what? We are just going to come right out and say it; the mobile version of this slot is even better than its counterpart.
Who is Planet of the Apes slot for?
Tough to answer this one. We know that the theme of this slot is going to draw in some newer players. This always tends to happen when it comes to branded slots.
However, the features that you will find in this game seem as if they have been designed for more experienced players as they are a touch more complicated than the norm. So, we are going to go with experienced players who have a hankering for something different.
Features of Planet of The Apes Slot
It is tough to talk about the features found in the Planet of the Apes slot because they are so unique. You will not spot these in any other slot. Therefore, we are just going to give you an overview of the features. It will give you a basic overview. Please read the instructions of the slot for more information:
Dual Symbol: this can trigger randomly on any spin. Two random symbols will stay on the reels and you will get a free respin. Symbols can become sticky.
Stacked wild: stacked wilds will land in the 'rise' area. If they do, they get transferred over to the dawn area. You can win some big prizes here.
Rise Feature: at its core, this is just free spins. You get 10 of them. This is the trickier feature to explain as you get a cash prize at the end rather than throughout. This cash prize is based on collected symbols.
The Planet of The Apes Rtp % & Variance
The Planet of The Apes Slot has an Rtp % of 96.33% and is considered a medium variance slot.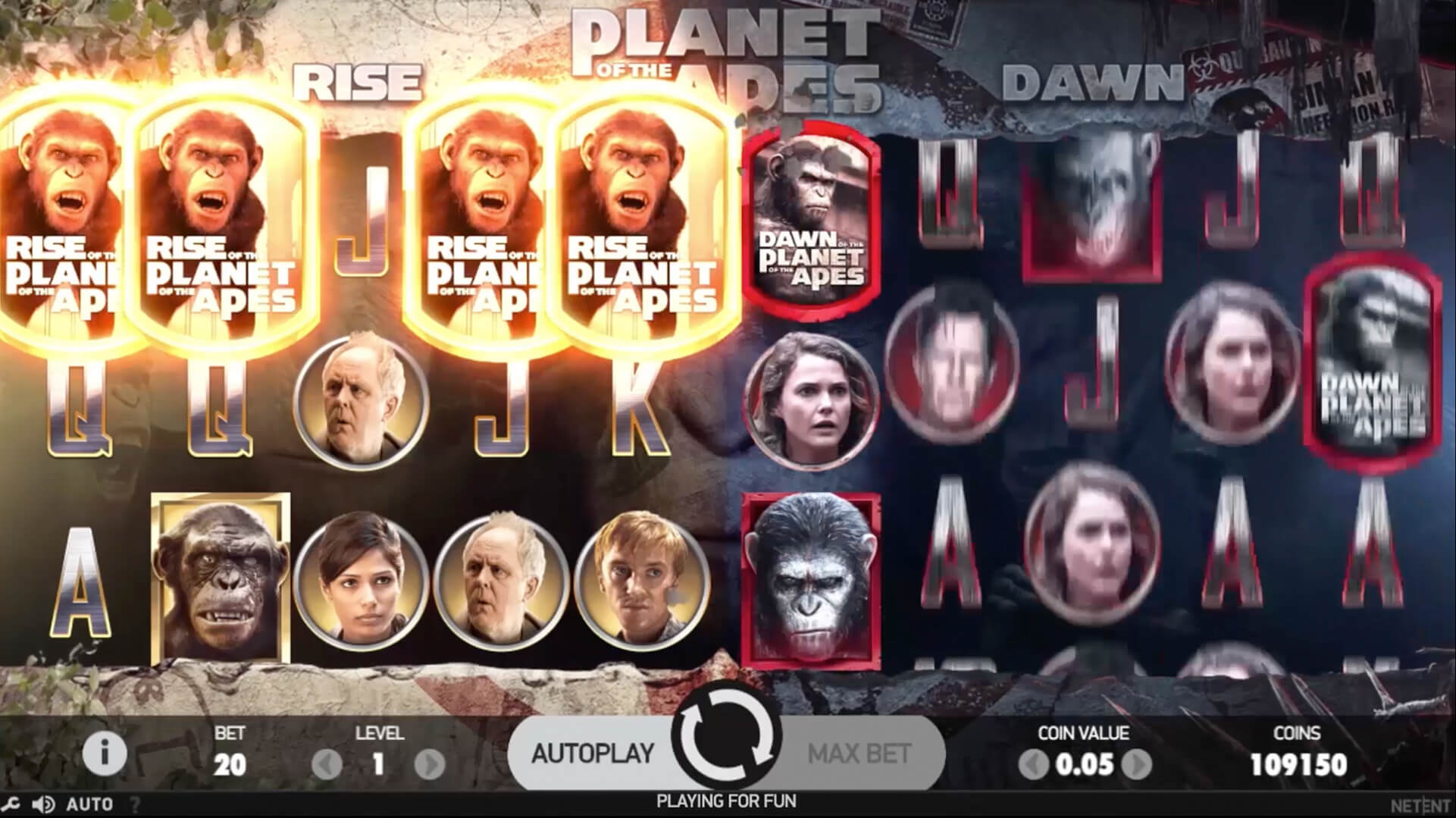 Betting Strategies
Since this is a medium to low volatility slot, just bet at a level that you are comfortable with. We had a good few hours playing on this slot and we came out ahead, so as long as you are not blitzing through your bankroll like there is no tomorrow, you should be able to nail a win here.
Review Summary
Of course! We barely ever write reviews for games that we do not recommend. Why? Because it is just a waste of time. We can instantly tell when we will not fall in love with a slot. There are far too many out there for us to play.
So, if something does not grip us after a couple of spins, it is onwards to another game. Simple as that! So, check out the Planet of the Apes slot. We can 100% guarantee that if you play this, you are going to be excited. We were, and it takes a lot to please us.
If you want to play Planet of the Apes, then you can head to any one of the NetEnt online casinos below. We have taken the liberty to ensure that all of these places are a great place to head, which is going to be great for you. It means more playing and less tinkering around with an abysmal casino.