Reel Rush Slot Review
A retro arcade inspired video slot with no less than a whopping 3125 ways to win! Play Reel Rush if you enjoy fast paced slots and some innovative in-play features from the one and only Netent. Netent's Reel Rush slot is designed with a mix of a classic, retro and a modern twist featuring some highly innovative game features, such as unique reel configurations, and one of a kind 3125 ways to win when playing in the free spins mode.
How to Play Reel Rush Slot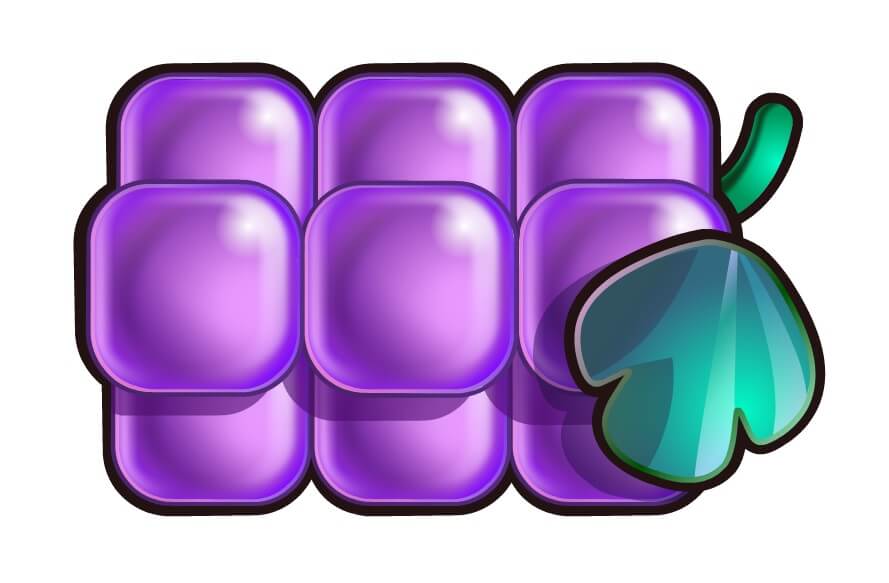 Reel Rush Slot is designed with 5 reels, but interestingly offers 7 different reel formations with 7 different Win ways, which will unlock, if you're lucky a total of 3125 win ways. For these reasons, Reel Rush is quite a unique Netent slot. Reel Rush's win lines can be formed by at least 3 identical symbols on consecutive reels going from left to right.
Reel Rush is designed brightly with high quality graphics that you'd expect to see from any Netent powered slot. On the reels, you'll see icons in the shape and form of fruits, they remind us of candies; strawberries, pineapples and blueberries, which are designed with a modern tweak to them.
When you win, the win amount sum will pop up in retro fonts and the lines between the reels will dazzle. The graphic back drop is what reminds us of a Super Mario type world, which is what helps give Reel Rush Slot that retro feel.
The retro twist also comes in the form of the soundtrack which is very arcade like but it certainly keeps you entertained and feeling fabulous as you would when you walk into an arcade or casino.
To get started, just set Reel Rush Slot up so it's playing within your preferred betting limits. Reel Rush Slot can be played with 10 different bet levels and 5 different coin values from which range from £0.01 to £0.20. The Bet Levels for Reel Rush range from 50 up to 500.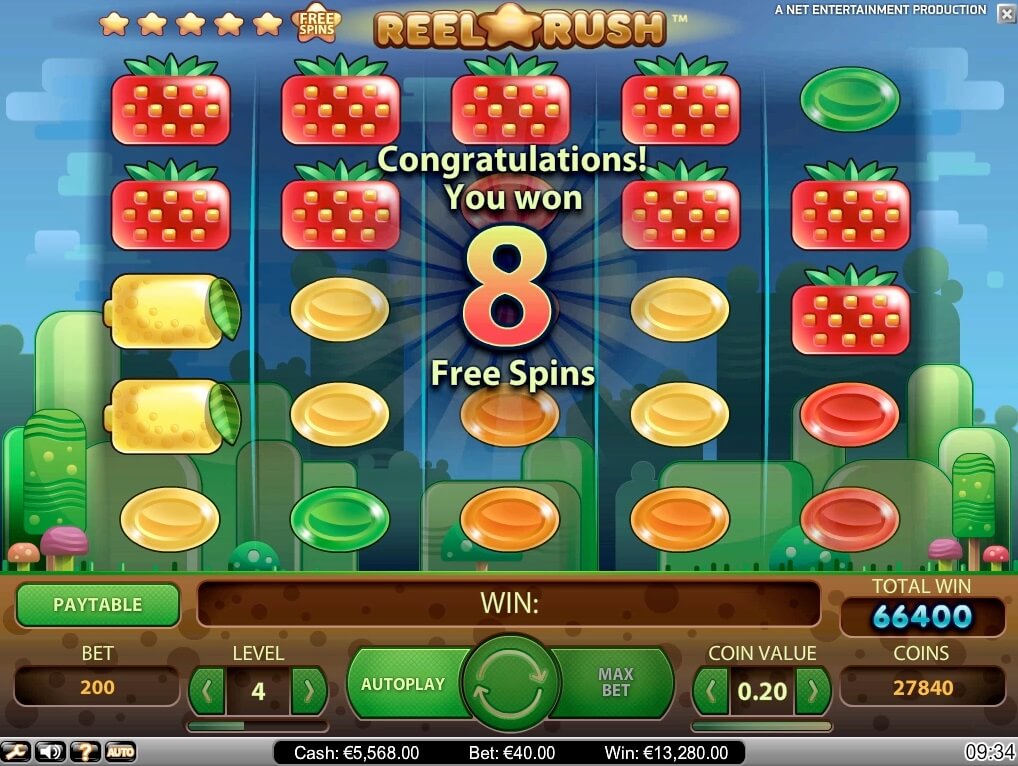 Bonus Rounds & Extra Features
NetEnt's Reel Rush Slot offers players 3 main game features which come in the form of Wilds, Re-Spins and a Free Spin game:
Reel Rush Wilds:
Reel Rush's Wild symbols will appear on reels 2, 3, 4 and 5 when you're playing the main game and also during the free spins game. They're handy so you'll want these little blighters to land on the reels to help substitute the other symbols to create extra win ways for your pocket.
Reel Rush Re-spins:
In the normal game there's 45 pay lines. However, every-time you win in this round, the reels open/expand, offering you more pay lines for the one of the free re-spins that occurs after each win. More pay lines just mean bigger wins for you, so this is a really good and high value feature which also keeps you on the edge of your seat, as the win lines continue to increase more and more. This is where the name of the slot Reel Rush derives. Win 5 times in a row and you open up the entire board and also the free spins feature which you can read about below.
Reel Rush Free Spins:
You can activate the free spins game after 5th re-Spin (above) alternative win way is formed. If you manage this, you'll get 8 Free Spins where it will also be played with 3125 win ways (worked out on the reels as: 5 x 5 x 5 x 5 x 5 = 3125 win ways) The catch is, that there can be no extra Free Spins won during Free Spin mode but the 3125 ways to win is a great chance to bag some extra cash winnings whilst playing the free spins round.
Reel Rush Slot Rtp % & Variance
Reel Rush Slot has an Rtp % of 97% which is fantastic, plus it's considered a medium variance slot!
Reel Rush Mobile Slot
Reel Rush Touch™ Mobile Slot behaves like a gem on all platforms. We used our trusted IPad to play Reel Rush and say it's one of our preferred games to play, as it's got a lot of fast paced action which for us, give way more thrills when playing than some other more subdue slots.
Review Summary
Reel Rush Slot is a good choice of slot for most casino players as the betting options mean that most players can enjoy it as the betting limits star small and go big. Reel Rush is a perfect choice for casual players but also for players who like to bet big.
Reel Rush Slot is considered a mid-variance slot, so you can expect to see frequent smallish wins whilst waiting for the chance to unlock all the reels and the 3125 pay lines game. Reel Rush is a recommended slot both on desktop and mobile. Play at only the best casino sites below to get the best starting bonus as well!
Where You Can Play Reel Rush Slot