EggOMatic Slot Review

EggOMatic is a really quirkily themed Video Slot by Netent! It's brilliantly designed in the theme of a mechanical egg laying company (Yep, that's right!) and offers a lot of extra features to keep you entertained and in the money!
EggOMatic is a the story of an entrepreneurial Rooster who's decided it's far easier and more profitable to develop an 'egg laying machine' which in turn helps lay all the eggs and extra features to bring lots extra egg bonuses and tons of gold coin wins.
How to Play EggOMatic Slot
Get started by loading EggOMatic video slot and you'll instantly see the mechanical egg laying machine located on the right hand side of the screen (that's the EggOMatic machine) The slot itself is designed with great graphics and is all very 'mechanical' looking. EggOMatic is designed with 5 reels, 3 rows and 20 bet lines and a soundtrack that will remind you of a Disney movie; quite very magical and goes very well with the theme.
To get started, set EggOMatic slot up to play within your preferred betting levels/stakes. You can pick from a choice of 10 different betting levels and 7 different coin values, ranging from £0.01 to £1.00. The bet level means the number of coins you play with on each bet line. The different coin values you can choose are as follows: £0.01, £0.02, £0.05, £0.10, £0.20, £0.50 and £1.00.
Get started by pressing the spin button, located in the bottom middle of the slot and start the egg producing machine to see what goodies will be laid. With any luck it'll be the maximum win of 2500 coins. When a Coin Win Egg (see below) is cracked by the Wild Rooster it will literally rain coins, which can be as follows: 50, 100, 200, 500, 1000 or 2500 coins. But that's not all, as you can win more, as the coins are then multiplied by the bet level that you're playing with. So, how much you win will all depend on what levels you play on.
Bonus Rounds and Game Features
EggOMatic Slot offers a lot of extra in game features which will keep you entertained whilst playing. They are as follows:
Symbol Substituting Wild Rooster: The wild rooster symbols can appear on every reel in the main game as well as during the free spin games. The Wild rooster symbols can substitute all other symbols to create extra winning bet lines.
The EggOMatic:
This is the big blue egg producing machine we mentioned before located on the right hand side of the machine. It really does resemble a massive boiler (see picture above). It'll place some of the eggs that it randomly produces, on a conveyor belt, which runs above, from right to the left above the reels. When a wild rooster appears on the reels above where an egg is situated, the egg will drop down from the belt into the big rosters arms.
Then the rooster will crack the eggs open to reveal what's inside, which could be an invitation for a free spins game, some extra coin wins or… a fun surprise, which we will help explain below. After this, the conveyor belt will keep moving to the next reel and so on after each round, to keep helping you win more extra and features, resulting in more gold coins.
Free Spins Eggs:
When a free spins egg drops from the conveyor belt to be cracked open by the wild rooster below, the free spins mode will activate. In this feature, the free spins eggs can give you some really nice extra free spins, which can be an extra 7, 10, 12, 15, 20, 25 or 50 free spins! As soon as the free spin mode starts, the EggOMatic will lay 5 of any type eggs on the conveyor belt above, and then during the free spins rounds you'll be able to win extra free spins when they fall, added to the already extra free spins you're playing with.
Coin Win Eggs:
When the rooster cracks a coin win egg, it will literally rain coins denoting your prize, which can be any of the following: 50, 100, 200, 500, 1000 or 2500 coins. What's more is that the coins can then be multiplied by the bet level you're playing with too.
Spreading Wild Eggs:
When a spreading wild egg falls into the arms of the wild rooster below, all symbols directly adjacent to the wild rooster, which can be a maximum of 8 symbols, will turn into a wild symbol as well, substituting all other symbols to creating extra winning pay lines and resulting in some colossal wins!
Surprise Eggs:
The Surprise Eggs feature can represent any of the other eggs including the Spreading Wild eggs, Coin win Eggs or the Free Spin Eggs for extra added bonus wins.
As you can see, there's a lot of extra fun features in this slot which will definitely keep you entertained and winning frequently. EggOMatic is classed a mid to low variance slot, which means that wins are frequent yet lower amount, but big wins are totally possible as well in the long run.
EggOMatic Slot Rtp % & Variance
EggOMatic Slot has an Rtp % set at 96.5% and is considered to be a medium variance slot machine.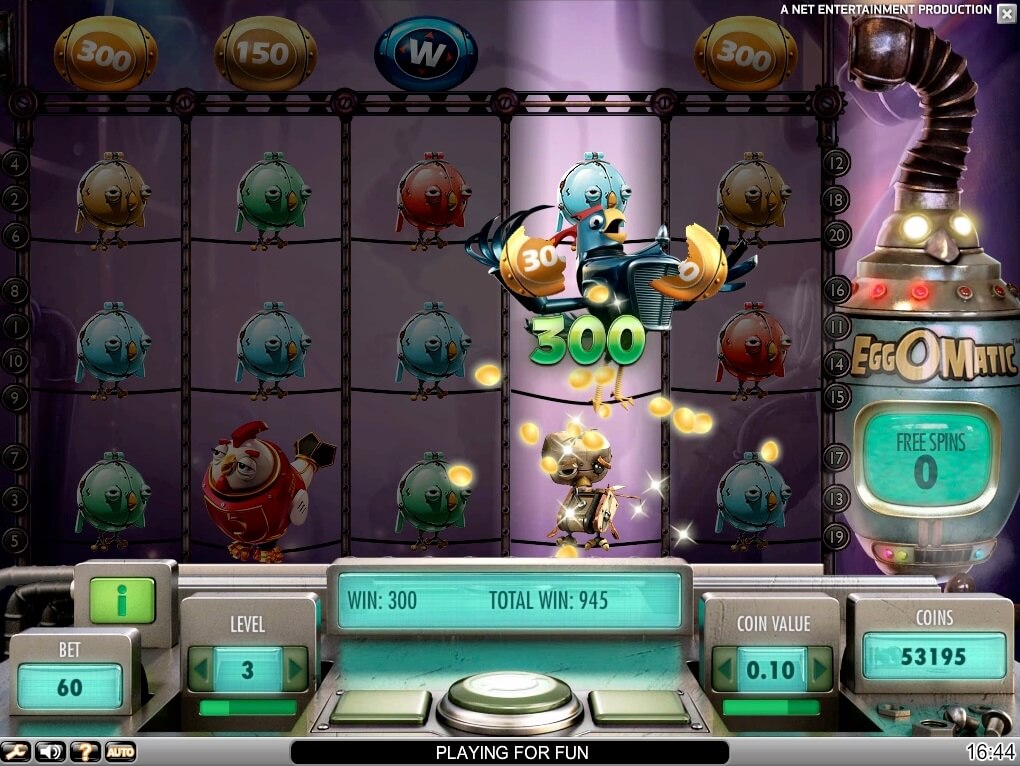 EggOMatic Mobile Slot
It's a real shame that EggOMatic video slot is not available (yet) to play on mobiles or tablets and does not therefore, form part of the Netent Touch™ series. We hope Netent change their mind about this, as it's a completely crazy and fun slot to play, and we're ones for playing online slots on our iPad.
Perhaps, the lack of EggOMatic Mobile slot is due to the design and animations which could be harder to adapt from web to mobile and touch screens. If you want to try NetEnt's EggOMatic you'll need to play on your laptop or PC but it's definitely recommended.
Review Summary
We really love playing EggOMatic Slot, and the only down side really that we can come up with is that it's not available in a mobile slot version. EggOMatic's theme is crazy and entertaining as we found ourselves hitting frequent yet smaller wins which kept us playing for quite a while.
EggOMatic is a low variance slot so is a perfect slot for all types of casino players, perhaps more for the casual casino player than high rollers, however. If you're looking for something less tame and more thrilling, then we would recommend you to try another cartoon style slot, with a western theme this time, called NetEnt's Dead or Alive slot. It's a high variance slot with some huge win potential. Other than that, EggOMatic is definitely worth a look. Play at any one of our recommended Netent casinos below which offer the whole Netent slots catalougue.
Where You Can Play EggOMatic Slot