Stickers Slot Review
NetEnt's Stickers Slot is simple but very effective. Extra Cool features such as new Sticky Wilds and Sticky Spins & Re-spins make sure there many extra possibilities for massive wins!
Stickers Slot by NetEnt is a very colourful and very vibrant. The main theme is a pure colour fest for your eyes, which graphics including sweet looking fruits. Netent have done a great job in bringing some fun extra features into this slot, such as Sticky features, icons on the reels that literally stick together to create more wins for your pocket!
How to Play Stickers Slot
Stickers™ Video Slot is very nice to look at and we found it visually appealing; we love slots which are full of bright colours and it's no secret that NetEnt have amazing graphics in all of their slots, especially when it comes to the more modern slots they've been releasing. Stickers Slot was released after Netent's Dracula Slot, so they probably needed to come up with something really cheery after the darkness of the Dracula slot (which is very fun to play). Aside from the graphics, Netent's Stickers Slot is designed in a traditional slot style way, featuring 5 reels, 3 rows and 20 fixed pay line slot
To get started playing Netent's Stickers Slot, just set the slot up as to your liking and adjust the bet levels you prefer playing with. The bet levels are totally adjustable, ranging from 1 to 20, with 20 win lines and 7 different coin values, ranging from £0.01 up to £1.00. You can work out the minimum and maximum bets by following our simple explanation:
The minimum bet can be calculated at bet level 1 x 20 win lines x coin value £0.01 = £0.20. Whereas, the Maximum bet you can spin is: Bet level 10 x 20 win lines x coin value €1.00 = a Whopper of £200 a spin! Stickers Slot is there for a perfect choice for all types of players, especially those casino players who are a little more high rolling and love to spin at €200 a piece!
Bonus Rounds & Extra Features
Stickers Slot doesn't offer that many extra features or bonkers extras that you may see in other Netent slots, such as Spinata Grand, it's nice to play a simple and easy slot machine sometimes. But, fear not, that's not to say that Stickers Slot is boring or have little action. No, No, No….what Stickers Slot lack in Free Spins round, it makes up for it with its Sticky Wilds and Sticky Spins features!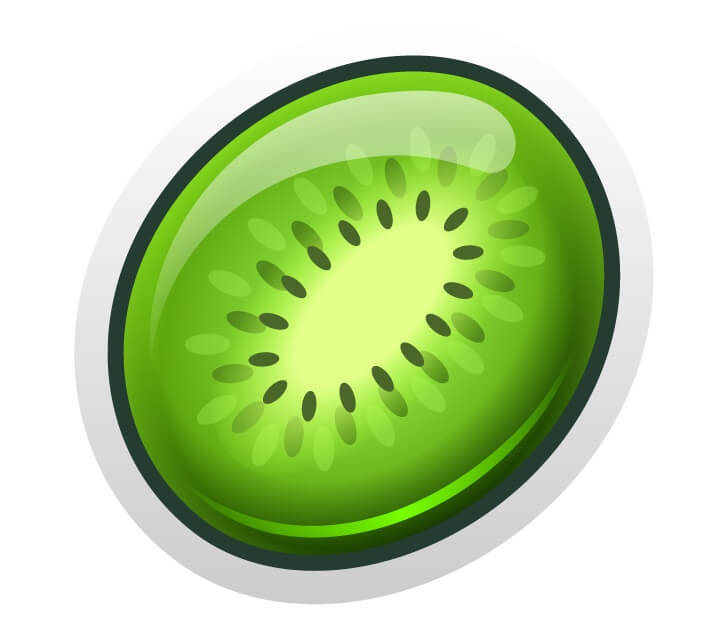 Stickers Wild Symbols:
The Wild Symbols can appear on any position on all reels, depicted with the word Wild as the icon. They can appear both during the normal spins (base) game and also during the Sticky Spins round (see below). Stickers' Wild symbols can also rather handily, substitute for all other symbols, except for Sticky Wilds (see below) symbols, which will help create the highest paying winning bet line combinations for higher and more frequent win chances.
Sticky Wild Symbols:
If you manage to get one or more Wild symbols appearing during a base game round, the wild symbols will hold their position after one (free) Sticky Spin follows suit. They can also create other winning bet lines by substituting for other symbols as well.
Sticky Spins Feature:
Stickers Slot Sticky Spins feature can be activated by getting one or more Sticky Wilds which appear in a base game round. Gain one or more of the Wild symbols to appear, regardless of the symbols and they will still create a winning bet lines and a free Sticky Spin will follow.
All Wild symbols, including those from the original spin, will hold their positions and substitute for other symbols. Consecutive Sticky Spin game rounds (re-spins) will be rewarded when new Wild symbols appear, which can happen time and time again. At this stage of the game, it's totally possible for the whole screen to turn sticky!
Stickers Slot Rtp % & Variance
Stickers Slot has an Rtp of 96.69% and is considered to be a low variance slot.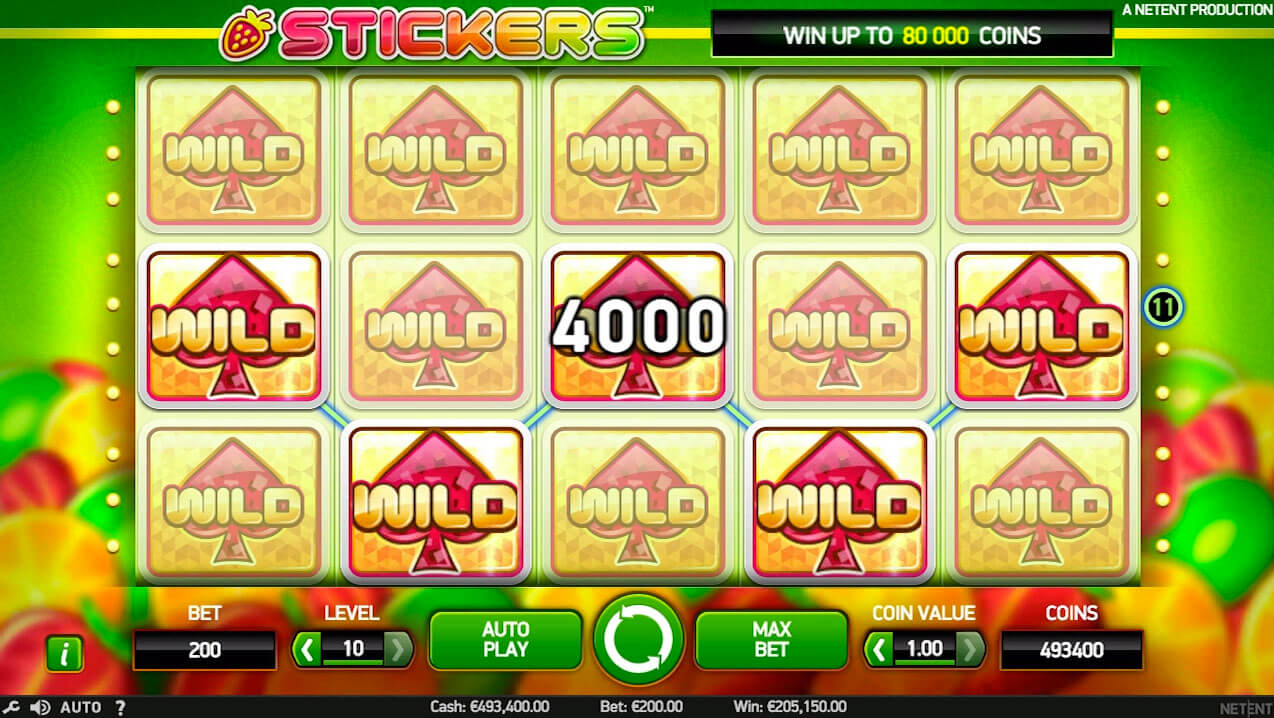 Stickers Mobile Slot
Great news for casino players who enjoy playing some casino games on the go. Stickers Slot can be enjoyed on all mobile phones and tablets in the form of Stickers Touch™. All Netent Touch™ Slots look and feel great and are easy to load and even easier to play because they are designed specifically for smaller devices
Review Summary
After the initial release of Stickers Slot, it was clear that Stickers Slot got a little bit of a mixed response from Netent fans.
Most Netent enthusiasts are a teeny weeny bit spoiled as Netent do come up with new innovative slots, time and time again. We think that some people felt that Stickers was lacking a free spins round and some wow factor. But, after playing it ourselves, we can firmly say that this is the beauty of the slot. Think about it. It's always good to have contrasting slots to play for some variety.
Stickers Slot has sticky wilds and spins features which still reward you win extra wins opportunities and keeps your game play varied. If you want free spins round then you can play other Netent slots which feature them. We think that Netent are consciously keeping their slots a mixed bag so that there's ample choice and selection across all of their games. Also, one thing we noticed when we played Stickers Slot: the graphics are almost like candy. It did make up want to reach for some sweets. Just saying. Maybe it's us?
With that said, we recommend trying Stickers Slot to play some of the new features NetEnt have invented, such as the Sticky features. Plus, with awesome graphics its set to make your mouth water whilst spinning some sticky delights for your pocket!
Where You Can Play Stickers Slot